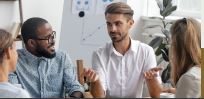 Job Launch offers a one-stop shop for the jobseeker in any stage of addiction recovery. We meet the individual "where they're at" and guide them, via confidential and free one-on-one service, using a comprehensive service plan that is customized to their personal vocational and recovery needs.
Participants will benefit, at their own pace, from start to finish with in-person and online job readiness trainings, instructor-led seminars, workshops, trade-specific online academy classes and finally job placement.
Job Launch graduates can expect a newfound purpose and meaning; not only in employment but also in becoming an active member of Safe Harbor's recovery community with immediate in-house access to a variety of peer recovery support groups. 
For more information, contact Whitney Brown at wbrown@granitepathways.org.