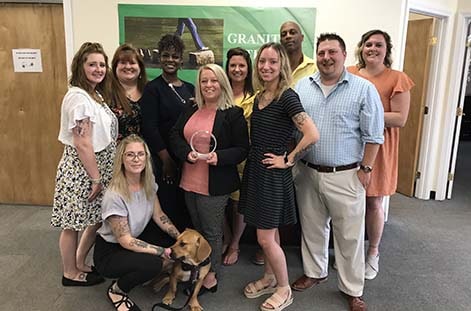 July 15, 2021 – Accepting the Recovery Provider of the Year Award from the NH Alcohol and Other Drug Service Providers Association was Lori Hebert, our Strength to Succeed Program Director. Following is her acceptance speech:
Thank you to the NH Alcohol and Other Drug Service Providers Association for this amazing honor!!
Thank you, Jessica Parnell, for that incredible introduction, and a HUGE thank you to John Iudice for considering and nominating our Strength to Succeed program.
I am here accepting this award on behalf of Granite Pathways Strength to Succeed Program, our 9 Parent Partners, 2 Field Supervisors and Program coordinator. This is a group who give all they have every day in serving families involved with child protection.
Strength to Succeed is made up of a team of professionals who bring our lived experience to the work we do. We are committed to building trusting relationships with families and with each other. We come from a place of understanding not only the barriers families face but the stigma that goes along with being involved in child protection. We value and honor family voice and know it is a crucial component for a family's wellbeing.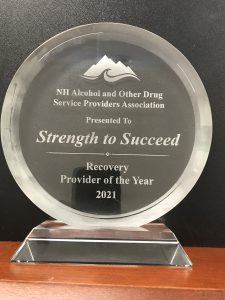 This work is hard, and COVID presented a whole new level of challenges for the families we work with. As a team we did not pause. We all dove in as the program transitioned to complete telehealth and supported one another while navigating our own COVID related issues.
I began working with DCYF over 7 years ago after my own family's involvement. Back then Strength to Succeed was just a dream.
Today the program is in its third year, has gone through two expansions and has served over 600 caregivers and their children. I am so proud of the work we do and humbled everyday by the dedication of our team and the families. We have witnessed the positive impact this program is having on the stigma attached to parents with Mental Health and Substance Use Disorder, highlighting that recovery is possible and families can heal together with positive supports.
We are grateful to the NH Alcohol and Other Drug Service Providers Association and its members across the state who voted for us. We are deeply humbled by your recognition and this award!!