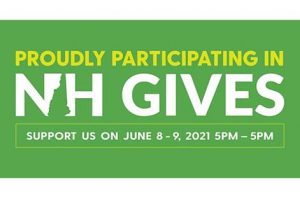 We are excitedly counting down the days until NH Gives, which is an initiative of the NH Center for Nonprofits. It is a statewide 24-hour online fundraising event designed to build community by connecting donors to local nonprofits and matching funds are available through the NH Charitable Foundation.
This year our goal is to raise $5,000 to subsidize our Safe Harbor Recovery Center programs and we need your support now more than ever! For those we serve, the isolation of the last year has been especially difficult. It is during these times that we must dig deeper and recognize our obligation to serve.
Help us spread the word about the essential work that Safe Harbor does daily and get others to join us in helping to make a difference in the thousands of Seacoast area individuals living in recovery along with their families.
Share our fundraising page with your network!
NH Gives begins at 5:00 p.m. on June 8th and ends at 5:00 p.m. on June 9th.
If you miss the 24-hour window for matching funds, your donation is still needed, and you can donate on our donation page here: https://granitepathwaysnh.org/donate/ .