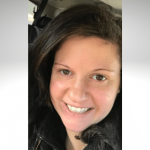 From Amanda Lentendre, Field Supervisor, about Amanda Durand, Family Peer Support Specialist – both of Granite Pathways' Strength to Succeed Program.
"Amanda facilitated Strength to Succeed's (STS) first Parenting A Second Time Around (PASTA) session in collaboration with the Kinship Navigators in New Hampshire. PASTA is a six-week evidence-based workshop offered to any relative caregiver, that focuses on educational subjects for kinship. Amanda facilitated the session on May 6th and there were eight caregivers in attendance who enjoyed the session. Amanda offered to take the lead on this session and will do the same for sessions that are happening in the coming months.
Amanda is a true team player and a pleasure to supervise. She is always willing to take initiative to help other staff and collaborate with community partners. Since starting with STS last year, Amanda has received her Certified Recovery Support Worker credential and is currently working with both relatives and parents in the program.
Amanda is an asset to the STS team, and it is an honor to watch her continue to grow. Great job, Amanda!"