From Lori Hebert, Program Director, about Anna Battle, Field Supervisor, both of the Strength to Succeed Program at Granite Pathways.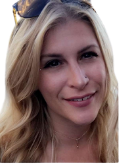 "Anna stands out on many levels from her supervisory skills to her facilitation skills. The annual Division for Youth, Children and Families (DCYF), the program funder, had their annual conference last week. Anna led a team in delivering a workshop to roughly 100 DCYF workers and community partners. The workshop: The Five Stages of Change (Transtheoretical) Model of Behavior Change focused on strategies of engagement with parents for DCYF workers within each stage. The workshop was developed for 50 attendees or under, over 100 individuals registered and participated.
Anna with her team, pivoted without hesitation in adjusting the training to present to double the number anticipated. Anna's presentation style was informative and engaging. She led the other presenters with confidence and delivered the message with clarity. She facilitated the large group in an impactful conversation on engagement. Anna is a leader at all levels, represents the program's mission with professionalism that deserves recognition.
Thank you, Anna!"